"Hymns for Kids: Learn How to Read and Enjoy Christian Hymns" introduces hymnology to children.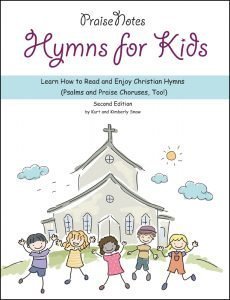 Appropriate for beginner piano students, as a unit study for homeschoolers, or just for introducing hymnology, Hymns for Kids is written with eight to 12-year olds in mind (though it is appropriate for younger–and older–audiences), this booklet is divided in two parts: an overview of hymns; and, the "technical stuff" (each section includes review questions).
Overview
The reason why we sing and what the Bible has to say about singing
The history of the hymns: from the time of Moses to the New Testament, through church history and to our own time
The purpose of hymns: to praise the Lord; and, to encourage, admonish and instruct one another in the faith
Types of worship songs: chants, psalms, hymns and modern praise songs
A review of famous hymns and hymnbooks
A review of some famous hymn writers like Isaac Watts, Charles Wesley and Fanny Crosby
The "Technical Stuff"
How many people does it take to write a hymn?
Voices; four part harmonies
Lyrics and refrains
Tune names
Meters: common, long, short, etc.
How to use a hymnbook
Hymn Arrangements

The beginner piano student version includes these hymn arrangements:
Each Little Flower (All Things Bright and Beautiful)
Come, Thou Almighty King
Jesus! What A Friend for Sinners
Joyful, Joyful We Adore Thee
What Can Wash Away My Sins
Plus, we have also included worksheets on two hymns: "Joyful, Joyful" and "God Is Our Refuge."
Note: We recommend using "Hymns for Kids" in conjunction with Favorite Hymns for Kids, which is a series of book collection of hymns arrangements and worksheets especially appropriate for the early beginner musician.