Just Hymns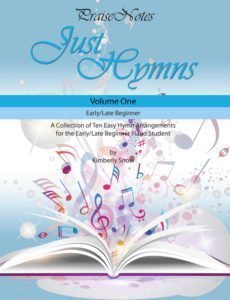 Just Hymns is a series of printed, bound books of Kim Snow's simple, easy hymn arrangements for piano students. Though written for children, it is appropriate for any beginner regardless of age. Just Hymns includes easy piano arrangements, piano arrangement marks reference sheet and glossary.
If you are looking for additional help to learn how to play hymns, consider our series, Favorite Hymns for Kids which also includes hymn worksheets, rhythm worksheets, and hymn and rhythm worksheet answer keys.
Each Just Hymns book include:
Piano Arrangements
Enlarged music score—two pages per hymn
Verse one of hymn, additional marks including introduction, refrain, playing both hands up one octave and final "Amen" ending
Measure numbers (circled) at the beginning of each music scoreline
Finger number recommendations above or below notes for both hands. Arrows above or below finger numbers alert students of changing finger positions
Other Features

Piano arrangement marks reference sheet – an example of how to use piano arrangement marks
Rhythm worksheet reference sheet – rhythm examples of how to count and write rhythms
Glossary
We offer three Just Hymns categories:
Hymns
Christmas Hymns
Easter Hymns
Click to learn the difference between Just Hymns and Favorite Hymns for Kids
Click HERE for a complete hymn index available as individual downloads and in our books.
All
Christmas
Easter
Just Hymns
Default
Title
Date
Random